Tastemonials!
That was the best team meal we had this year!! -Coopersville Broncos Football Team

Your food is the Bomb. And I get free entertainment with the meal. -Bob

This turkey gives my stomach orgas*ms -Jim

Thank you for your support of the CMN Ryde. You're awesome!! -Jimi & CJ

Your food rocks!!! I love the prime rib & the cheesy veggies. -Jane

Hello What awonderful meal & so much fun!!! It was enjoyed by all. If you ever need a reference, please feel free to use us. Thanks again! -Maryjean

WOW What a great day it was! Of course the BBQ was pure perfection & the bikers loved it (we sold-out glad I bumped the order). Take care & Thanks again! -Pat

Please give us your tastemonials! Email us at tophog@mspiggiesbbq.com
Pig Roast History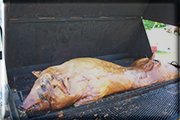 No one is quite sure of the exact date of the first hog roast. My best guess would be about the same time our ancestors discovered beer.
Plan A Party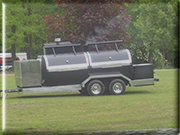 Let us help plan your next party or social occasion.
Tastemonials!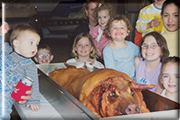 Leave us a Tastemonials!